Next:
3.3.2 FrAGL (Frequency of
Up:
3.3 Data analysis
Previous:
3.3 Data analysis
Contents
Among the numerous functions of VAMP, the user has the possibility to put his own marks and regions. This is done by right-clicking on clone/probe element under the mouse pointer of any molecular profile. A menu appears as shown in Figure 3.32 allowing various actions to be performed:
Figure 3.32: Contextual Menu - The user can easily put landmarks and regions of biological interest.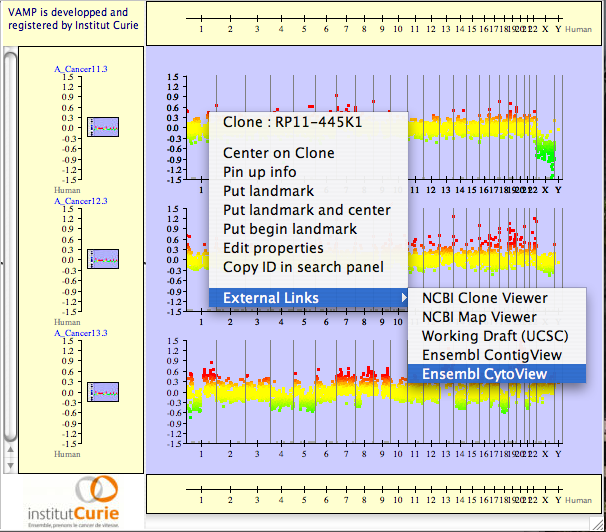 Within the contextual menu, it is possible:
Center on Clone/Probe:

to center the profile around the current position.

Put landmark:

to draw a vertical bar trough all the profiles to define a locus.

Put begin landmark, Put end landmark:

to draw a region over the set of profiles.

External links:

to retrieve any information from public or local databases.It is possible to add your favorite database (see section 2.2.3).
The user can customize colors by right-clicking onto landmarks and regions and then using Set colors for a better visualization (see Figure 3.33).
---





Next: 3.3.2 FrAGL (Frequency of Up: 3.3 Data analysis Previous: 3.3 Data analysis Contents 2007 - Institut Curie Bioinformatics unit